Following numerous requests from people who cannot train on site and following its success, EXPANSE THERAPY is now available for a short period of online training !
Become an EXPANSE practitioner, holistic head-heart-stomach treatment ! The first antidepressant treatment, a real shot of good humor
Formation's goal :
✅ Teaching this whole holistic method, with a complete training video to practice (in French with English subtitles) and a detailed 55-page PDF manual (with language), with a step-by-step presentation and a comprehensive review
✅ Explanation on the properties (physical and mental) of the essential oils used for this work.
✅ Detailed teaching of each happiness hormone and their release through massage
✅ Obtain a diploma, to practice in office or in private in a family setting.
✅ Support and accompaniment of the new practitioner by the team of the Federation, to answer your questions and help you develop your activity
At the end of this very detailed video course, you will have the essential bases to carry out this treatment.
The Federation of Massage of the 5 Continents, based in Geneva, is the leading company in the field of care, present in 50 countries with more than 12,000 certified practitioners.
Download now
Expanse Therapy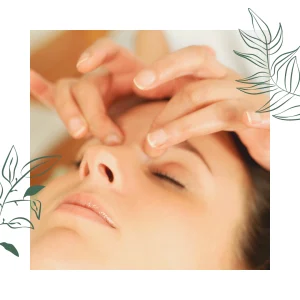 This treatment allows an emotional release in connection with our different organs (specific to Traditional Chinese Medicine) for more letting go and joy at all levels!
Head - Heart - Belly Massage
Why these three parts? We know that a majority of diseases are due to stress, overwork, our emotions stored mainly in the head, the heart, the stomach. By acting on these 3 areas, it is acting on more than 240 million neurons and therefore hormones that affect our well-being. It is to activate the hormones of happiness by different processes, it is to unravel encrusted traumas and emotions in our different organs, it is to drain the stored toxins and facilitate better functioning, it is to allow energy to circulate better throughout the body. This combination of treatment on 3 essential areas is the success of internal and external well-being, both mentally and physically.
Expanse Therapy, is a 1-hour global treatment spread over 3 axes, passing through the skull, through the heart to the stomach, combined with 2 synergies of essential oils previously chosen for their virtues on the various ailments and emotions.
Expanse Therapy is a therapy with an initial anamnesis to identify your profile and a cure of 4 treatments with personalized follow-up on each session.
It is also a treatment combining sound therapy with a soundtrack specially developed and calibrated on hertzian frequencies specific to each area treated and acting on these tensions, blockages, stored emotions.
A stimulation treatment for the 5 senses, a powerful sensory journey allowing a great letting go like a real antidepressant, a good mood shoot, a concentrate of inner smile, a therapy of joy and liberation!
Upon receipt of your payment you will immediately receive an email with the link to the full video with all the details of the training that you can watch. As well as the training manual /31 pages (pdf).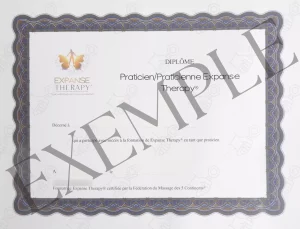 After viewing your training, you will have access with your order email, in order to receive your diploma. As soon as you have practiced massage a little, just write to us and we will send you your diploma.
We are sure that following this training, you will be thrilled and you may want to do it again with an approved Expanse trainer, this is why if after ordering this online training and at most 3 months later, you train face-to-face, we offer you a reduction of 200 euros on this training.